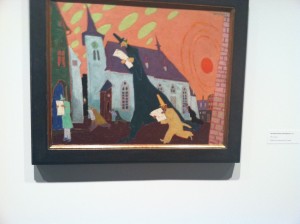 Bach's influence is felt, to this day, everywhere. Not just in classical music, or in pop music, but in books, movies, art.
Back, gods, more than a year ago, I went to a Lyonel Feininger exhibit, because I had stumbled across an image of the painting above, titled "Newspaper Readers." It caught my eye because I'm a journalist, and I'm tall, and, I don't know, I like orange skies with yellow blobs floating in them.
At the exhibit, I stumbled into the realization that Feininger deeply loved Bach. Feininger, born in America, studied the violin as a child, and first made his way to Germany, where he would live for much of his life, to study music. Art became his primary calling, but he called music "the language of my innermost self." Bach was especially an influence – to the extent that a friend presented Feininger with a fugue on his 50th birthday, inspiring him to begin composing fugues of his own. You can also see the influence of Bach on his paintings. Wrote Feininger, "Bach's essence has found expression in my paintings. The architectonic side of Bach whereby a germinal idea is developed into a huge polyphonic form."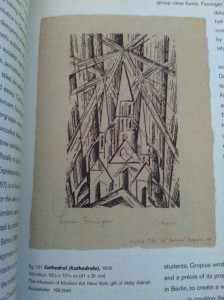 For this, my last post on Bach, I am going to attempt to chronicle his influence, from classical music to disco, from Bruce Willis to James Bond. This will be an evolving work that I'll add to as I go, and I'm sure it will never, ever, be done.
So. Click on the list below to go to a particular section, and here we go.

CLASSICAL MUSICIANS INFLUENCED BY BACH
CLASSICAL MUSICIANS BACH WAS INFLUENCED BY
POPULAR MUSIC INFLUENCES
LITERATURE INFLUENCES
MOVIE/TV INFLUENCES
VISUAL ARTS INFLUENCES
CLASSICAL MUSICIANS INFLUENCED BY BACH
Balakirev, Mily: Balakirev was mostly interested in trying to escape the influence of Bach, but one suspects he failed. He referred to Bach as a "composing machine" whose works were "maids of beauty, frozen and soulless," Nikolai Rimsky-Korsakov writes in his memoirs.
Beethoven, Ludwig van: According to the liner notes to a version of the Well Tempered Clavier, volume 1, "Both Mozart and Beethoven copied out several of the fugues (not just to make a duplicate but to re-experience the process of composing them in the act of writing them out) and Chopin made a rigorous study." Beethoven wrote upon hearing that the Leipzig publishers, Hoffmeister and Kühnel, planned shortly to issue a complete edition of Bach's clavier work: "That you want to publish Sebastian Bach's works delights my heart, which beats wholly for the great and lofty art of this father of harmony, and I wish soon to see the enterprise in full swing." Beethoven's Diabelli variations parody other composers including Bach and Mozart.
Brahms, Johannes: Brahms based the final movement of his fourth symphony on the theme of the concluding section of BWV 150, Nach dir Herr verlanget mich. For more, click here.
Brendel, Alfred: Wrote variations based on BWV 12 Weinen, Klagen,  Sorgen, Zagen.
Chopin, Frederic: According to the liner notes to a version of the Well Tempered Clavier, volume 1, "Both Mozart and Beethoven copied out several of the fugues (not just to make a duplicate but to re-experience the process of composing them in the act of writing them out) and Chopin made a rigorous study."
Gounod, Charles: His Ave Maria adds voice over Bach's Prelude in C from the Well-Tempered Clavier.
Hindemith, Paul: Transformed the C-minor Fugue from the first book of the Well Tempered Clavier into a ragtime version. According to James Gaines, he wrote "gleefully" on the score: "Do you suppose Bach is turning in his grave? "He wouldn't think of it. If Bach were alive today, perhaps he would have invented the shimmy."
Lizst, Franz: Wrote "Variations on a Theme by Bach – Weinen, Klagen, Sorgen, Zagen" on the death of his daughter, Blandine Olliver. Also transcribed seven Bach organ works.
Mendelssohn, Felix: It's hard to imagine, but for a period after his death, Bach slipped somewhat into obscurity. Mendelssohn is widely credited with reviving interest in Bach with an 1829 performance he orchestrated of "St . Matthew's Passion" with an enormous orchestra and a chorus of some 400 singers.
Mozart, Wolfgang Amadeus: According to the liner notes to a version of the Well Tempered Clavier, volume 1, "Both Mozart and Beethoven copied out several of the fugues (not just to make a duplicate but to re-experience the process of composing them in the act of writing them out) and Chopin made a rigorous study."
Part, Arvo: Peter Quinn writes in Tempo that his Credo (at about 1:30) borrows from Prelude No. 1 in C Major, BWV 846/1, "and juxtaposes it with a twelve-tone row built on the circle of fifths."
Rachmaninoff, Sergei: Transcribed Bach's Prelude, Gavotte and Gigue from Partita in E Major for solo violin.
Reger, Max: Arranged some 93 pieces of Bach's music.
Schoenberg, Arnold. Yes, world, we have Bach to thank for Schoenberg. At a Feininger/Bach/Schoenberg concert related to the exhibit that I attended, the gent next to me remarked as Schoenberg's variations on a Bach piece played: "I've heard a lot of Schoenberg. And it hasn't changed my mind." Schoenberg summarizes what he learned from Bach: "1. Contrapunctal thinking, ie the art of inventing musical figures that can be used to accompany themselves. 2. The art of producing everything from one thing and of relating figures by transformation. 3. Disregard for the 'strong' beat of the measure."
Webern, Anton: arranged the ricercar from The Musical Offering.
For more, click here.
CLASSICAL MUSICIANS BACH WAS INFLUENCED BY
Buxtehude, Dietrich: It was this organist that Bach once hiked 250 miles to hear. The New York Times writes of Buxtehude's Passacaglia in D minor, "The slow repeating theme is remarkably similar in its opening contour to that of Bach's in his Passacaglia and Fugue in C minor. Either Bach or Buxtehude or both might have modeled the theme after one by the French composer André Raison."
Corelli, Arcangelo: Bach transcribed his works.
Le Roux, Gaspard: The liner notes to one of dad's versions of Bach's "English Suites" say, "Recently it has been shown that the opening two bars of Suite No. 1 are a virtual quotation of the beginning of the Gigue of the Suite no 4 by Frenchman Gaspard Le Roux which was also transformed by Charles Dieupart into the Gigue of his Suite No 1. Since Dieupart lived and worked in England, and Bach certainly knew and copied out some of his works, this may explain the designation 'English.'"
Marcello, Benedetto: Bach transcribed his works.
Tomaso Albinoni: Bach transcribed his works.
Vivaldi, Antonio: Bach transcribed his works, including a piece for four harpsichords that was originally a concerto for four violins by Vivaldi. Several authors have noted that Bach is indebted to Vivaldi for the concerto principle in general.
Apollo 100: Joy is based on Jesu, Joy of Man's Desiring.
The Beach Boys: Lady Lynda's intro excerpts from Jesu.
The Beatles: The trumpet solo on "Penny Lane" came about when Paul McCartney heard trumpeter Dave Mason performing the Brandenburg Concerto #2.
Emerson Lake & Palmer: The Only Way's intro excerpts from Toccata in F Major.
Jethro Tull: Bouree is based on Suite in E Minor for Lute.
Procol Harum: Air on the G String was the musical inspiration for Whiter Shade of Pale.
Simon, Paul: American Tune is set to the tune of O Sacred Head Now Wounded, from St. Matthew's Passion.
 The Toys: Minuet in G is the melody behind their song Lovers Concerto.
Winston, George: Plays Joy on his album December.
Xzibit: Symphony in X Major is based on Brandenburg #3.
For more, click here.
Dick, Philip K.: In "The Crack in Space," a book in which earth has gotten so full of people that many of them have gone into deep freeze to await a better time, Dick writes as an option for them is found: "You can still wake the sleepers. As it says in Bach's Cantata 140, "Wachet auf". Sleepers, awake. That'll have to be your watchword from now on."
Forster, E.M.: TK, if I can ever make my way through the edition of Howards End that's been sitting on my bookshelf for YEARS.
Murakami, Haruki: See here.
For more, click here and here.
Before Sunrise: Uses Goldberg Variations and the Andante from BWV 1027, Sonata No. 1 in G Major.
Boogie Nights: Uses version of Jesu Joy of Man's Desiring.
Dangerous Liaisons: Uses the dreaded Concerto for Four Harpsichords.
Devil's Advocate: Uses Air on a G String.
Die Hard: (Yep, Die Hard): Uses Brandenberg #3.
Fantasia: Uses the Toccata and Fugue in D Minor.
The Godfather: The great organ passacaglia, as previously mentioned, plays during the baptism sequence.
Hannibal: Hannibal Lecter, of course, is a great Bach lover, in both this and Silence of the Lambs. Jeremy Denk writes about the use of the Aria as Lecter chews off the face of one of his guards, it is "either a stroke of genius or an act of cultural cannibalism."
The Island of Dr. Moreau: Uses Brandenburg #2, Concerto for 2 Violins in D minor.
Kiss the Girls: Uses Partita No. 2 in D Minor, Sonata No. 1 in G Minor.
A Late Quartet: Mostly Beethoven, but Bach's cello suites get a hat tip, as Peter (played by Christopher Walken) discusses what he learned from Pablo Casals.
Master and Commander: Uses Prelude from Cello Suite No. 1 in G Major.
Mr. Holland's Opus: Uses Minuet in G Major, Wachet Auf
The Pelican Brief: Uses "Komm, O Tod, Du Schlafes Bruder."
Phantom of the Opera: Tocatto and Fugue in D Minor used in many versions of.
Runaway Bride: Uses the old standbys Jesu and Air on the G String.
Slaughterhouse Five: The real deal – all Bach. Soundtrack recorded by Glenn Gould.
The Soloist: Uses Cello Suite #1.
The Spy Who Loved Me: Uses BWV 1068, Suite No. 3 in D Major.
Three Kings: Uses Gloria from Mass in B Minor.
Unbreakable: Uses Allemande from the English Suite in A Minor, Fugue in C Major from Klavierbuchlein, Prelude in G Major, BWV 902.
White Nights: Passacaglia is played when Baryshnikov performs "Le jeune homme et la mort," which uses the music.
For more, click here and here.
Braque, Georges: Braque painted a piece called "Homage to J.S. Bach." The MoMa's Web site tells us: "Braque was a trained classical musician, and Johann Sebastian Bach, whose polyphonic compositions are musical analogues to the shifting planes and multiple perspectives of Analytic Cubism, was one of his favorite composers. Rare for his work of this period, Braque signed his name prominently on the painting's face, perhaps to invite a slippage of sound between the composer's name and his own." Braque also included Bach's initials in a number of other paintings including "Violin et Clarinet." According to this paper, Braque's use of "the fragmentary '… mme de Soire … Bach' calls to mind an advertising poster or a programme printed to accompany a recital of Bach's music, lending further support to the hypothesis that the frequent musical events associated with the Parisian Bach revival may have played a significant part in drawing Braque's attention to the great master of fugue."
Feininger, Lyonel: See above.
Hartley, Marsden: The words "Bach Preludes et Fugues" are inscribed on the canvas of "Musical Theme No. 2."
Itten, Johannes: painted "Der BachSanger," about which I can find zero additional information.
Klee, Paul: Deeply influenced by Bach. Several paintings make direct references: "Bau am Bach" and "Im Bachschen Stil".
Kupka, Frantisek: According to this paper, he told the New York Times: "I believe I can find something between sight and hearing and I can produce a fugue in colors, as Bach has done in music."
Macke, August: Painted "Homage to Bach," which has the dubious distinction of being available in a cross stitch pattern.
Petrov-Vodkin, Kuzma Sergievitch: His "Still Life With Violin" prominently features a Bach manuscript. I wish I knew more about this piece. How did this Soviet artist come to include a Bach piece in this work? Can anyone fill me in?
Weder, Jakob: has 51 paintings based on music "with a special attention for the J.S. Bach scores."
For more, click here.