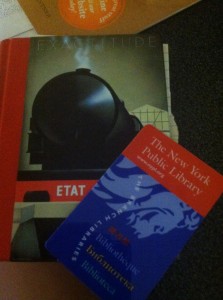 I made my first trek ever to the New York Public Library to research that last blog post, as Rimsky-Korsakov's memoirs mostly aren't available online.
I mentioned my library-visiting intent at a gathering earlier in the week, and was intrigued by a) the extreme level of horror my friends expressed that I had never been and b) the fact that their horror was primarily related to my lack of visiting the main branch to see its beauty. As opposed to say, being mortified that I don't read enough, or that I still buy books, or that my reading tends towards teen-level dystopic fantasy. I also haven't been to the Brooklyn Public Library, although, as I assured one snarky friend, I HAVE been to the public library in my hometown – admittedly, probably most recently in the '80s. Also, nobody asked, but I could have navigated the libraries at the University of Chicago in my nightmare-filled sleep.
Anyway. Off I went, and after getting totally lost in the black hole of the Lincoln Center complex (Hey Lincoln Center! Number your buildings after the streets they front on, not "40 Lincoln Center Plaza"!), I located the Performing Arts library.
Because it's been so long since I've been in a library, the visit was a mixture of familiar and unexpected. Unexpected: the ability to listen to a CD, for instance (or a wax cylinder, which the library apparently also possesses). The presence of electronic databases – the last time I used a library, card catalogs were still the method of choice. LexisNexis was just beginning to come in, and it was inscrutable. The ability to apply for a library card online, and to order a book delivered from the off-site collection to the library the same way.
More familiar: The comfortable hush, so known that Amtrak now makes announcements about its quiet car that mention "maintaining a library-like atmosphere." The kindly librarians, putting up with a newbie's ineptitude, calling me "sweetie" in a way that I didn't even mind.
I retrieved my Rimsky-Korsakov and happily took notes – with pen and paper, in a miniature travel log notebook that my dad took on a holiday to England when I was a kid, and in which he wrote only about five pages of notes before getting distracted. (Sort of like this blog! Apple – close to the tree!) It seemed appropriate. Hopefully I'll add more than another five pages to the notebook, because this may have been my first visit to the NYPL, but it won't be my last.