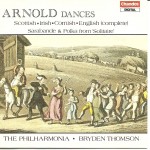 Malcolm Arnold. Dances: Scottish, Irish, Cornish, English. Sarabande & Polka from 'Solitaire.' The Philharmonia, Bryden Thomson. 1990
Most of my dad's CDs, I went home and packed up early this summer. But a few of them have been in my own collection – meager in comparison to his – for years, including this one.
I stole this CD during my senior year in high school, when I played the bassoon solo in the second movement of Arnold's "Four Scottish Dances" as part of this thing called All-State Band (I wonder if it's still around?), where you go away for a few days, rehearse a few pieces, and then perform them for an audience of parents and band directors, mostly.
The bassoon solo should be the single drunkest part of the staggeringly inebriated second movement, which multiple sources on the Internet say is based on a tune by Robert Burns. While they do not say which one, I suspect it is "Willie Brew'd A Peck O' Maut," the words to which go like this, to give you an idea of the tone of this piece:
O Willie brew'd a peck o' maut,
And Rob and Allen cam to see;
Three blyther hearts, that lee-lang night,
Ye wadna found in Christendie.
 We are na fou, we're nae that fou,
But just a drappie in our ee;
The cock may craw, the day may daw
And aye we'll taste the barley bree.
I played this bassoon solo beautifully, touchingly, emotively. It was a fine performance, for a nervous kid. I have the recording to prove it. I did not, however, play it drunkenly.
How could I have? While I seem to recall the director beseeching me to be a little rougher with the solo, he couldn't outright tell me to play like I was a drunk — this was Arkansas circa 1990, and I was underage. And even if he could have, I wouldn't have been capable of processing it. I was a band nerd in a dry county on the buckle of the Bible Belt who'd never really had a drink. My first real "drink with friends" episode wasn't until a bit later, and it was an odd one: The summer after high school, I snuck off with a couple of friends to a park outside of town, where we each dispatched a beer on the banks of a muddy pond while a creepy local kid spied on us from the rafters of a nearby pavilion.
When I got home from All-State, I stole this CD to listen to the bassoon solo. It schooled me. This is how it should be played. I'd like another shot at it. Anybody want to loan me a bassoon?
[Also in dad's collection is Arnold's Symphonies No. 1 and 5, recorded by the Royal Philharmonic Orchestra under Vernon Handley on Conifer Classics. This is it for the A's, next up: the brutal B's, home of Bach, Beethoven, and Brahms.]