Addinsell, Richard. Music of Richard Addinsell including Warsaw Concerto. Royal Ballet Sinfonia, Kenneth Alwyn. Martin Jones Piano. White Line MOR Classics, 1996.
I was like, "Who?" when I stuck this CD in. But only until about five seconds into "Warsaw Concerto," at which point I was like, "Oh." The opening notes to this  [Warsaw opening] are so familiar, I felt like Darth Vader in Star Wars Episode IV when he looks confused – and he does look remarkably confused for  someone wearing a helmet on his head, doesn't he? — and says, "I sense something…a presence I haven't felt since…"
Although on reflection, I'm not quite sure why this is causing such deja vu. Is it just because dad listened to it frequently? Possibly. Probably, even. Is it because DMX uses it for the piano chords behind his initials in "What's My Name?" Perhaps, although I'm more of a "Party Up in Here" fan.
But this also seems like a piece grandma – dad's mom — would have enjoyed pounding out on the piano.
I don't have a ton of memories left to me of grandma, who died when I was pretty young. Dad's love of classical music assuredly originated with her, as demonstrated by this comment from his college roommate John on my first post: "He told me that as a baby his mother would take him with her in a bassenet and put him beside the piano while she played at various places she was asked to play."
One strong memory I do have is of her settled in front of the piano — which resided, oddly in retrospect, in my parents' bedroom — singing vigorously and playing even more so. She liked forceful piano pieces. This qualifies.
Grandma played and sang professionally on the nightclub circuit for quite a while in the 1920s and 1930s, from Chicago to Florida. She didn't much want to talk about it in later years, but she did have a scrapbook, which leaves the impression that she was a feisty lady, dealing with a life that got tough at times.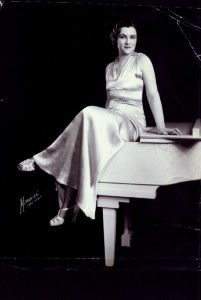 She performed, variously, under the names of Nadine and/or Betty Martin ("The girl with a thousand songs," "the queen of swing"), as part of the duo of "Martin and Fields," as part of "the Martin twins," as part of "Tom and Betty Martin." Ads for the clubs she appeared at billed her as a songbird from the sunny south or a blues singer from Los Angeles. She took a lot of requests; one clipping says she "never has to turn down a number." Another shows her on the same bill with someone named Ozzie Osbourne – a different one than the one that has just popped into your head, presumably, seeing as how he is described as "Master of vibra harp and marimbas."
One flyer presented her as "The unpredictable singer at the piano." I wonder if she got that reputation due to behavior described in one of her clippings: "Nadine Martin, Ringside Club blues singer went temperamental and walked out of the floor show when a teetery couple got up and started dancing during her number. As she should have. A bagful of Mr. Winchell's scallions to the couple."
The best story of which there is no real proof about grandma's career is that Al Capone once saw her play in Chicago and gave her $20. (According to my mom, grandma said Capone had such a bad stomach he had to drink honey before he could imbibe the harder stuff.) The best story with archival evidence is the following one, as told by J. Emil Smith in a newspaper column called "Making Conversation."
Picture it, if you will. It's late at night ("the last floor show was over") at the Villa Valencia, and Betty Martin is playing piano for those few who remain. A bunch of newspapermen – rowdy types, to be sure – drop by for a nightcap after putting their stories to bed. Grandma – no grandma then – rolls the miniature piano over to the newsmen for a little tete-a-tete between numbers.
"Why don't you give me a write-up sometime?" she asks, adding, "I used to keep a scrapbook with press notices about myself, but it went the way of the trained duck in a vaudeville act."
Of course the reporters have to know: what fate the duck? The response: "The owner was appearing on the stage with his trained duck when the depression came on and the theatre canceled his act. The man went to several booking agencies, hoping to find an opening but the answer always was the same, 'We haven't anything for you just now.' Finally, several months later, a booking agent wired the man with the duck that he had a place for his act in a show. The vaudeville performer wrote back: 'I am sorry I can't accept your offer. I ate the duck last week to keep from starving.'"
Further explained my grandmamma: "That was my trouble. In Chicago things were going badly and I had to make a scrap stew out of my scrapbook."
Thankfully, it wasn't true.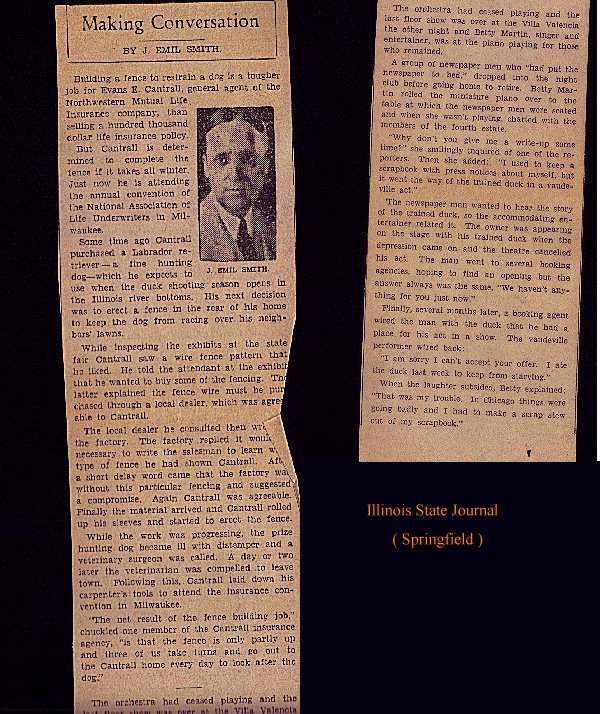 [Next up is Kalevi Aho.]