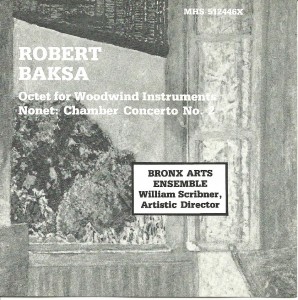 Robert Baksa. Octet for Woodwind Instruments. Nonet: Chamber Concerto No. 2. Bronx Arts Ensemble, William Scribner, artistic director.
There is only this one CD of Robert Baksa's in dad's collection. After Bach and sons, this seems strange to me. "What do you mean, there aren't 20 other copies of the Nonet to listen to?"
Baksa is a contemporary composer, but not in a Schoenberg kind of a way. "Most of the stylistic innovations of the 20th century were totally at odds with his own artistic ideals," the liner notes tell us, going on to quote Baksa as saying, "The clean lines, transparent textures, and sheer clarity of the classical era had the greatest appeal for me; and, in spite of what most musicologists say about changing styles, I feel that the best compositions of any era will share, to some extent, these qualities."
The placement of this CD right after the Bachs-es-es is fortuitous. The music is cheerful, bouncy, unintimidating. As a critic for American Record Guide writes, Baksa's music features "relentlessly cheerful, have-a-nice-day major harmony so restricted and conventional it would soon drive Bach or Mozart up the wall." Perhaps. But for someone who has been listening to Bach pretty much non-stop for months, it is a nice change.
Here's a link to the first movement of the nonet.