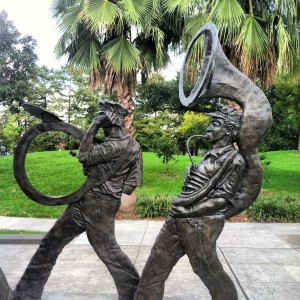 Here's a Spotify playlist of 24 of my favorite songs of the year. MBV, which is the 25th song, isn't on Spotify, but there's a video embedded below.
Sallie Ford & the Sound Outside. They Told Me. Wherein it is yawped barbaric-style that going your own way is just damn fine. I previously wrote about Sallie Ford here.
Drake. Started from the Bottom. A rags to riches story in true modern American fashion. Brash, catchy, and completely lacking class.
Willie Mason. Restless Fugitive. The guitar reverb coils up in my stomach. The weary voice with its wearier lyrics coils up in my brain.
Bosnian Rainbows. Eli. I previously wrote about Terry Gender Bender here.
Marnie Stern. The Chronicles of Marnia.
Shearwater. I Luv the Valley Oh. This is off an album of covers of songs by bands that Shearwater has toured with, now with 100% more Shearwatery-ness, which is to say, holy guitar glory, Batman! When you can take an album of covers and make it a unified thing that is good and that I will buy rather than just listen to on Spotify over and over, you've really got something going.
Buke and Gase. Houdini Crush. Jittery this, filled with half steps, starts and stops, meter shifts.
American Royalty. Honey & Queen. Right about the one-minute mark, they do something with reverb and a…kazoo? that just knocks me flat.
Katy Perry. Roar. I originally had Sia's "Elastic Heart," off the Hunger Games soundtrack, in this spot, but I was vaguely uncomfortable about it, because, you know, what is an elastic heart? Is it a heart that expands infinitely to love everyone? Or is it a heart that's like a slingshot, regularly ejecting all its loves? And then I was thinking maybe Sky Ferreira, "You're Not the One," but meh, and I could give a crap about Lorde, and Miley Cyrus alienated me even before her MTV stunt, with that line "We run things/Things don't run we" because REALLY? You never learned the word "us"? But then I was at my NSA supermarket, which used to be a C-Town but now is NSA, which is either one level better or one level worse, I can't decide, and this song came on. And I was in line behind this old dude with a cane, and he asked me to go get him some coffee creamer, and I did, and I mean EVERYONE in the store was humming along tapping their foot. The Latino teenagers working the registers, the hipsters, even my Caribbean-American old-timer tapping his cane, and yeah, yours truly. And I figure, if you can write a song that won't alienate anyone in the NSA, and maybe inspire a few teenage girls to make better choices, there you go.
Solange featuring Kendrick Lamar. Looks Good with Trouble. Solange funk-soul-sistered a very Brooklyn crowd of hipsters and old-school round-the-hood types into complete sweaty dancing submission at BAM this year. It is incomprehensible to me that she is only the second-most-famous Knowles.
The National. This is the Last Time. This is for A.
Streets of Laredo. Hey Rose. This is for what's next. And: "I don't know/if my butterflies are lonesome."
Thao & the Get Down Stay Down. We the Common (For Valerie Bolden).
Gus Cannon. Can You Blame the Colored Man. I picked up a magazine called Oxford American: Southern Music in Memphis when I was home for Christmas. It was about Tennessee and it came with a great two-CD set of local music. This song blew my socks off. That banjo thing he does at about 1:05. It sounds so fresh, and this song is – what – almost a century old? Here is a really great, detailed analysis in the magazine.
Kanye West featuring Frank Ocean. New Slaves. Kanye may intend this song to be about racism, but for me it's about capitalism. Don't let yourself be judged by your ability to buy shoddy crap, people. (NSFW)
King Midas Sound. Aroo.
Frightened Rabbits. Holy. I came to this song for the chord modulation that kicks in at about 22 seconds. I stayed for the lyrics. I'm going to put this on every time I'm on the subway and a proselytizer judges me.
Vampire Weekend. Obvious Bicycle. An update of "cry and you cry alone."
Big Data. Dangerous. So Big Data apparently is entirely about the dangers of big data, which most of the time is more than a little bit cheesy and even more than a more than a little bit over the top. But some of the time, like here, it is kind of fun and just a wee bit creepy and apt.
Lucius. Monsters. This bit of nostalgia, this lullaby for an adult, this is the aural equivalent of a rainbow – something beautiful that happens when it's simultaneously raining and sunny inside your head.
Fat Tony featuring Kool A.D. and Despot. Hood Party. I confess I flirted with Blurred Lines, but in the end this was the summer song that stayed with me, the perfect poking of a little serious fun at what's happening to Brooklyn and yes also the world. "Stop asking where Brooklyn at/you coulda just looked at a map" and: "Yo, Jim Cramer look crazy, my dude" – basically true and perfect. (Really NSFW.)
Haim. The Wire.
A Hawk and a Hacksaw. You Have Already Gone to the Other World. I can never remember the name of this band. A Hand and a Hacksaw? A Hack and a Handsaw? Anyway, they took this old Ukrainian movie that all the hipsters obsess over, and redid the soundtrack, and now it is basically awesome, but I have to tell you: the movie is a giant pile of steaming nonsense. Do not under any circumstances bother to see it, no, not even if the band is playing the soundtrack live while the movie plays in the background for free at Lincoln Center. But do listen to this song.
My Bloody Valentine. New You.
Nine Inch Nails: Everything. I was playing some random Internet radio station the first time I heard this song, and it gave me the strangest sensation. I was lying on my couch not 10 feet from my speakers, but it was as if I was underwater miles away and Trent Reznor was singing in Martian. I could hear the beat and tell that it was Reznor, but I couldn't understand a single word. It was freaky. So I got up, and moved closer to the computer, and looked the song up, and listened to it again. The second time through, much clearer: "I survive/everything/I have tried/everything" and then "Wave goodbye/wish me well/I've become/something else" and then "I am home/I believe/I am home/I am free." And I *think* my problem the first time through was that my brain couldn't process that these lyrics were coming out of Reznor's mouth. I mean, this is Trent. Reznor. He of my youth-raging "HEAD LIKE A HOLE! BLACK AS YOUR SOUL! I'D RATHER DIE! THAN GIVE YOU CONTROL!" and subsequent similar or even worse things. But you know, this is a good song. A happy song, relatively. And if Trent Reznor can do it – why can't I?