I am going to depart from dad's music and write about my own, just for one post. This is what I listen to when I need a break from the Bach. These are my favorite songs of 2011.
Wilco. Art of Almost. This year. This year has been topsy-turvy, up and down, filled with connections made (or re-made), missed. This has been a year in which the best songs were vivid and personally felt, not just passively enjoyed. Perhaps none more so than this. In title, in every muttered, inscrutable lyric, in noun used as verb, so very Wilco-esque, in song-ending endless noodling zoned-out guitar solo. In the overall sense of faint futility, but also faint promise. Almost is better than not quite, isn't it? "Tomorrow I'll have all the love I could ever ache. I'll leave almost with you."
(As an aside, here's Jeff Tweedy, reading the weather.)

PJ Harvey. The Glorious Land. PJ Harvey's latest is entirely about war. It is all blood and guts and angular out-of-place sounds. That trumpet, what is it doing there, I wondered on first, second, third listen, before realizing that in fact it fits perfectly in its strident non-fitting. This may not be my favorite album of the year – or it may. But it is definitely the bravest, and it is probably the best.
Wye Oak. Holy, Holy. The guitar. The guitar. The guitar-ar-ar-ar-ar-ar-ar-ar-ar. That is all. Oh wait. Maybe it isn't. Maybe also the line "All human joy is precious," which leaps out of the sonic muck and muttering of this song and accosts me, every single time.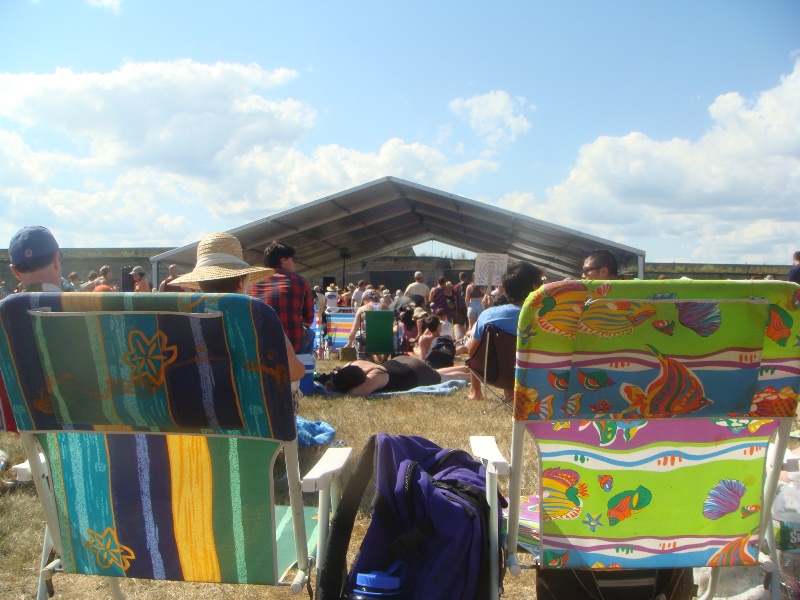 Sallie Ford and the Sound Outside. I Swear. I went to the Newport Folk Festival this year for the first time. It was the most remarkable collection of young up-and-coming wanna-be bands and gray-haired, still rocking legends, of people amply willing to break furniture for positive purposes and others who found this idea confusing, of dancing even though it was far too hot to dance, of sold-out lemonade stands and sunburns. This group was the first group, the first day. Their amplifiers sputtered and broke, in a sort of reverse curse of Bob Dylan, but they carried on acoustically, belting this song out, an anthem for the state of music.
The Arctic Monkeys. Don't Sit Down 'Cause I've Moved Your Chair. I didn't want to put this song on this list. It is so silly. But so. Frickin. Catchy. It lurked at the edge of the list, round about the 26th spot, for the longest time, until it overcame me by sheer force of hard-rocking will, and here it is.
Lloyd. Dedication to My Ex. This is the clean version of the song. I have never heard the dirty version, which is apparently Lil Wayne times 10. Nor do I want to. Not out of prissiness — it's just that this song doesn't feel dirty to me. Its timbre is one of American Bandstand-era faux wholesomeness, with its gleaming high-school-band horn sound, its white spats, its Andre 3000-as-badly-CGIed-cat video. I miss that lovin', he sings in this version, and I want to believe that it's the love he misses, and not the word in the original version of the song. Watch the video, if only for the CGI cat.
Cocaine 80s. Anywhere but Here. Summer jam, is all.
The Generationals. Ten-Twenty-Ten. What is this song about, can anyone tell me? The beat, the guitar, so peppy, going so fast somewhere, as the singer earnestly wonders whether someone's going to be a terrible friend, which is the only lyric I am capable of making sense of before my mind gallivants off with the beat. Wherever it's going. And who cares, really, because it's going there so infectiously.
Tapes 'n Tapes. Badaboom. This is an okay song, puttering along mindlessly in the background, until about the 2:50 mark, when it gets frustrated with you for not listening to it and alternately stomps its foot at you and pouts in a corner, until you're like, "WHAT? Fine. I'll put you on my list. Are you happy?"
The Kills. DNA. I love Alison Mosshart. She could sing about mildewed socks, and I would faithfully buy her CDs anyway. This is another song where I'm not sure what's going on. It could be mildewed socks, for all I know. Doesn't matter, because my love affair with this song, this off-kilter guitar lick stumbling over itself in its haste to get out of the way of the vocals, is entirely about the beat.
Stepkids. Suburban Dreams. I need a lazy groove like this, a dreamy slurring 80s-style keyboard, a Milwaukee's Best of a song, in my life. And so do you.
Le Butcherettes. New York. I saw these guys in New York in early November. There was a man clad in only his underwear at the bar as I walked into the club, and I wondered what sort of place this was, this Santos Party House. Later, he got dressed (on stage, in fact), and treated the entire club as his mosh pit, crashing about and annoying the faux-bored New York crowd, before coming down off whatever high he was on and standing, listlessly clad in plaid, while Terry Gender Bender belted the hell out of this song, arms akimbo, eyes possessed, head thrown back at an ungodly angle, and I secretly wanted to be underwear-clad and moshing myself.
Hanni El Khatib. Loved One. Well, after this, you know, you can't say I didn't warn you. "Hey someone, you gotta be up outta your mind, cos you can't be my loved one unless you're crazy half the time."
Grieves. On the Rocks. An extended pun, this song, although perhaps not a very funny one.
Gil Scott Heron and Jamie XX. Running. The poet Gil Scott Heron died this year. Yes, poet. Listen to this remix, and tell me otherwise. I always feel like running. Not away, because there is no such place. Because if there was, I would have found it by now. R.I.P.
Radiohead. The Daily Mail. Wilco sang my personal anthem this year. Radiohead one-upped them, with an anthem for the world. This is a perfect Radiohead song, from quiet start, through Thom's mumbled lyrics that make it difficult, but not completely impossible, with a little focus, to understand just how anti-establishment it is, to its rousing, big-stadium-rock finish. The lunatics truly have taken over this island. We've made a pigs' ear, all of us together. PS. If you don't like this song, don't tell me, because then we won't be able to be friends.

You Won't. Fat and Happy. This was the last song onto this list, one of two that made it on from my cruising of other people's other year-end lists (thanks, Rollo & Grady!). Usually I shrink from adding something that I have only just heard for the first time, uncertain whether or not it will have staying power in my head. But I have zero doubts that this will be a friend down the road. In fact, the only real struggle I had after I listened to this song and one other by this band was, which one? This wins out because, while perhaps slightly less foot-tappingly catchy, it's got more oomph, more surprise, more mystery to it. And also a barely there, sometimes just implied, but still entirely infectious ooo-oooo.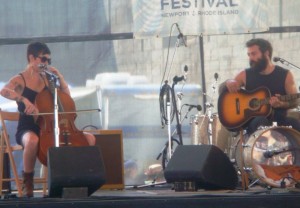 Brown Bird. Come My Way. This couple, this almost impossibly adorable couple, played at the Newport Folk Fest. Have I mentioned it was hot and humid?  Perhaps that's why this lyric wound its way into my head as I balanced precariously in a patch of shade off to the edge of the tent they were playing in: "The air is thick with the thoughts you conceal/The whole world's undressing in front of your eyes/As you add to your senseless disguise."
The Pack A.D. Pieces. I heard this one day, late summer. I had a sneaking suspicion I might need it, so I tucked it into a pocket. Sure enough, come fall, it came on randomly on my iPhone mix, on the train home after an upsetting evening with a boy. "Taking the blame, I win, I win. Playing the game, again. Again. I tried to run, I fell, I fell. Dust me off, oh well, oh well." Hold everything to pieces. Yes. (This song has the distinction of being the only one in the list that isn't available for free stand-alone anywhere on the interwebs, but if you fastforward to about three-fourths of the way through this podcast, you can hear it.)
Jennifer O'Connor. Already Gone. This is, quite simply, the point to which the last song leads.
Emmy the Great. Paper Forest. Lest we wallow in self-pity for too long, Emmy the Great is here to drag us out of it.
Phenomenal Handclap Band. Following. Heard this on a KEXP podcast, on the subway, on my way to work one morning. Found myself rewinding, or whatever the equivalent of rewinding a podcast on an iPhone is, trying to figure out what it was. Found myself humming it in the office. Found myself listening to it in the morning, twice, three times, before I walked out the door to go to work. Found myself violating my rule of "no headphones on the street" to sneak a listen, also my rule of "no headphones in the elevator." As I write this, it is firmly, perhaps permanently, lodged in my head, in this room, in this room, in this room, in this room.
Jamie Woon. TMRW. The lyrics are so banal that I somehow find them moving. "How do we get through tomorrow every day? I don't know but we get through it anyway." The CD that this comes from is my favorite of the year as of this writing.
Dan Mangan. About as Helpful as You Can Get Without Being Any Help at All. Sweeping, waltzing gloriousness.
Dale Earnhardt Jr. Jr. Morning Thought.  Enough of this nonsense. Here's my theme for a new year. This song, it's how I'll get past almost, how I'll get through tomorrow. "You're thinking about how long it takes/to cross the ocean/while you wait/I'm running around it/anyway."