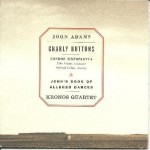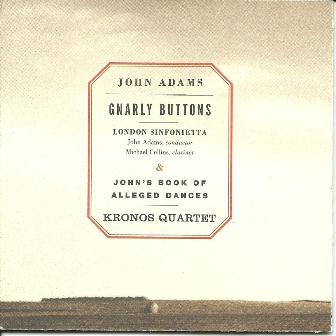 John Adams. Gnarly Buttons (London Sinfonietta, John Adams conductor and Michael Collins clarinet) and John's Book of Alleged Danges (Kronos Quartet). Nonesuch Records, 1998.
I am starting with John Adams. In one way, this is a terrible place to start, since Adams is complicated, modern music, with permutations and a knowledge of musical history well beyond my amateurish abilities. Otherwise, it is perfect.
He's the second composer, alphabetically, in dad's collection, and my intent is to go more or less in alphabetical order, with perhaps a diversion here and there. (The first is Adolph Adam, composer of Giselle, who I will come back to at some point).
More to the point, dad's collection includes a piece that Adams composed in remembrance of his own father, who died of Alzheimer's, and I can't think of a better way to start off than that. Not to mention that this piece, "Gnarly Buttons," had already caught my attention, even before I realized the symmetries, with an aggressive-looking cow on the front cover of the CD and a rather loud "moo" from a sampled cow midway through the second movement.
This is a piece designed to showcase the clarinet, Adams' instrument growing up. (Just like me! The symmetry! Well, sort of. The clarinet was the instrument I started out on when I joined the junior high band. I played it for not-very-long, until one day I switched abruptly to bassoon after my band director pulled me aside and said, in distorted memory, something like this: "Yeah, so, you're not so great on clarinet. I mean, you're okay and all. But we really need a bassoon player. So why don't you play the bassoon?")
Adams tells us in the liner notes that he and his father played the clarinet together growing up, that "Benny Goodman was a role model, and several of his recordings were played so often in the house that they almost became part of the furniture." Which is a good description of how classical music, generally, was in my household. He also tells us, in an NPR interview in 2008, that his father's paranoia as his illness deepened led him to hide the clarinet, in pieces, in the laundry, suggesting "a strange, slightly berserk piece that had both charm and humor, but also a certain personal poignance."
Adams' music is so rich, has so many ideas pouring out of it, that it's hard to guess what, specifically, might have been informed by his dad.
The first movement is based on an imagined Protestant hymn for which Adams has actually given us the words. This caused me no end of distraction as, listening to this piece on the New York subway, I dreamed up a Protestant choir perched on the 4/5 train bench across from me, and attempted to force them to fit the words of this hymn to the rhythm of Adam's music. "Satan's leering help me firmly turn away/Hurl me singing into the tremulous day!"
The second movement is a hoedown, typically associated with a horse, here reimagined for a cow in honor of the British friends who first performed the piece during a Mad Cow quarantine. I dare you to listen to this piece without having distracting thoughts of dancing cows. And here, by the way, is the moo:
In the third movement, though, I think I can finally feel the lament for Adams' father and Alzheimer's disease and family and memory and life passing, as a simple, quiet clarinet melody gradually grows more frantic and strident, more out of whack with the music around it — one pictures clarinet pieces being worriedly wrapped up in the laundry — until the original melody returns, but as if half forgotten.
My intent is to return to this one piece, when I am done with all the rest of dad's collection some light years from now, and see what I can hear in it then.
Happy birthday, dad.
[Next up is Adams' Light over Water.]